Montney – 2TCFE of Resources
"The super liquids-rich window of the Montney in British Columbia will emerge as one of the top plays in Western Canada and perhaps in North America"
The City of Fort St.
British Columbia, Canada
Introduction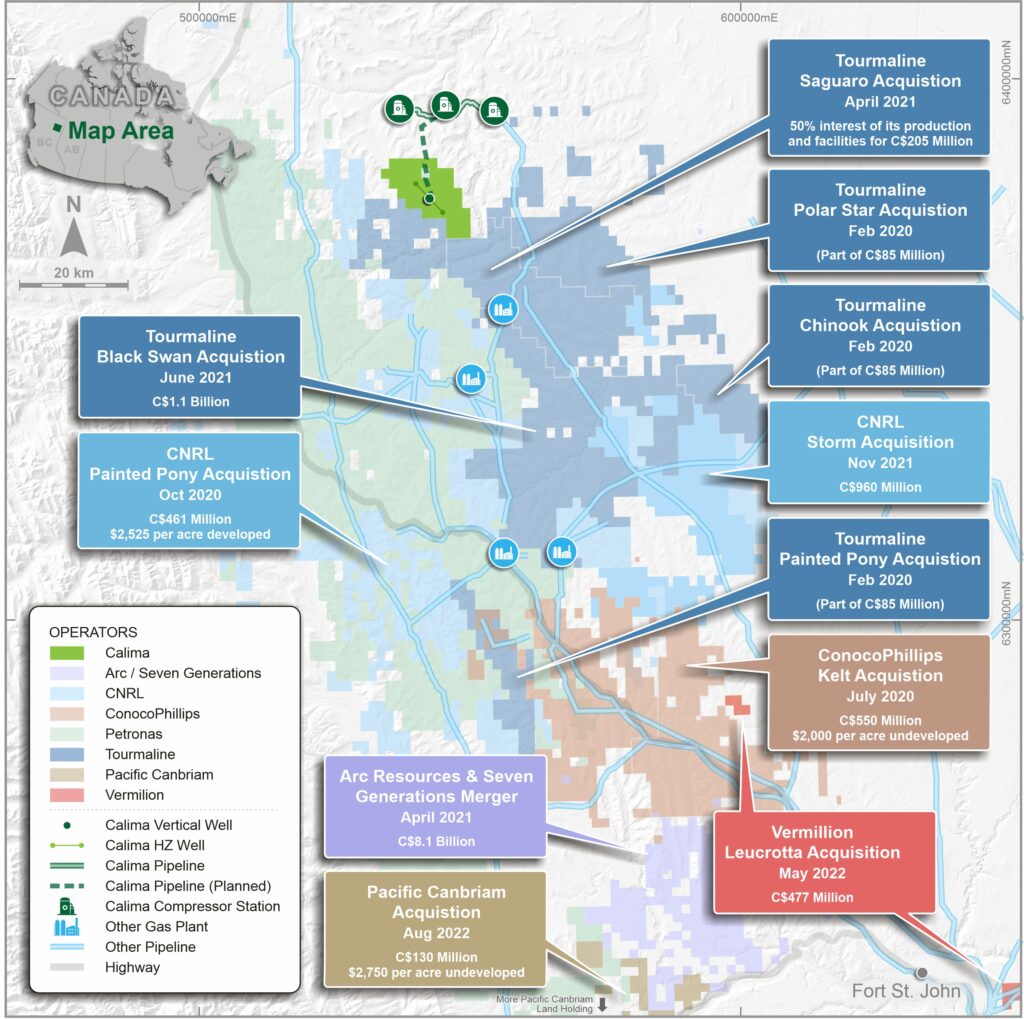 The Lower Triassic Montney Formation of Alberta and British Columbia (BC) has been the target of oil and gas exploration since the 1950s. Until recently most of the investment was directed towards conventional sandstone and dolostone reservoirs, however there is also a considerable thickness of siltstone, saturated with oil and gas, which cannot be developed using conventional technology. With recent advances in horizontal drilling, multi-stage hydraulic fracturing and completion design it has become possible to develop these siltstones and as a consequence the Montney has become the most active oil and gas play in Canada and one of the most attractive plays in North America.
According to the National Energy Board of Canada (2013) the siltstones of the Montney Formation are expected to contain 449 trillion cubic feet (TcF) of marketable natural gas, 14,521 million barrels of marketable Natural Gas Liquids (NGLs), and 1,125 million barrels of marketable oil. One of the most notable features of the Montney is its vertical thickness, which exceeds 300m in some places in BC. Most producers have at least 200m of exploitable vertical pay, presenting the opportunity for commercial development to involve several layers of wells which improves the productivity of each well pad. It is also notable that the interval being developed is a reservoir with natural porosity (average 6%) rather than a shale which results in enhanced productivity per well. The characteristics of the Montney siltstone are well suited to fracking resulting in exceptional fracture stability. Calima has used a proprietary geological work-flow to identify and capture a significant land position within the super liquids rich window of the Montney play in British Columbia where the presence of a significant proportion of natural gas liquids and oil results in improved economics.
---
Location, Location, Location….
Calima Energy holds over 34,000ac of Montney rights in the "liquids rich" fairway in NE British Columbia Canada. The land position started assembly in 2014 and continued into 2018. Through a successful exploratory drilling program in 2019, Calima was able to convert ~60% of the core acreage to 10 year leases. 
Increased demands for LNG exports from North America and around the world and the recalibration of European imports from non-Russian vendors has increased the demand for natural gas sourced from Tier 1 jurisdictions such as Canada.  Canada will become a new player in the LNG industry with the completion of the $40 billion LNG Canada facility (now 70% complete) with first shipments scheduled for early 2025. The Coastal GasLink Pipeline sources gas from the Montney and will delivers it to LNG Canada and has now almost reached ~75% completion.  With LNG Canada sourcing an estimated 2.5 BCF/D of gas from the Montney the supply / demand dynamics are anticipated to shift leading up to 2025, which is expected to significantly add value to our Montney acreage.  
As a result, Calima is currently evaluating a modest winter program for 2022-2023 to furth de-risk the project and provide critical data to support a long term development plan.  This work is expected to generate a higher realized value for the asset via a joint venture or sale.  The original 2 Calima wells were drilled and completed in the spring of 2019 and thus the production tests had to be cut short due to the spring thaw.  The Mid-Montney well (Calima 2) had a successful test with a maximum rate of 10.2 MMscf/d but still had 84% of the load fluid left to recover.  The Upper Montney (Calima 3) well test had to be cut short due to deteriorating ground conditions with the well recovering only 5% of the load fluid.  A planned retest of these wells in Q1 2023 will likely yield improved gas and condensate rates compared to the original tests based on well test results from offset operators who intentionally shut in the wells for the load fluid to dissipate into the formation prior to flowback. 
t's anticipated that the type curves will continue to be de-risked and validated supporting the initiation of a 20,000 – 50,000 boe/d development program in 2025.  The Calima team has refreshed all historical and current area Montney information and run development economics of a Mid-Montney program only; templated on current measurable results directly offsetting Calima's land position.  Utilizing a conservative development type curve that is 35% lower than the Contingent Resource report type curve, the full cycle project internal rate of return is >50% at <$3.90/MMbtu BC Station 2 gas price.  That plan is based on 1st phase production of ~22,000 boe/d in 2025 to 2027 depending on the timing of area gas processing capacity; on route to converting Calima's existing lands into a 20,000 – 50,000 boed asset.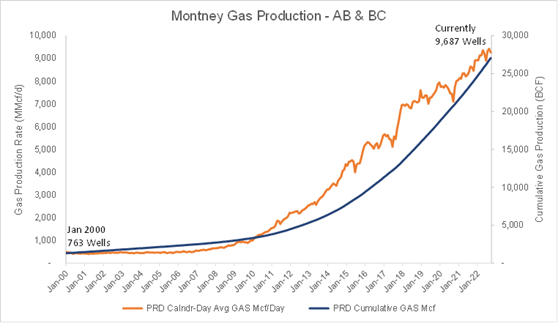 Montney natural gas production has returned to pre-pandemic growth levels in northeastern British Columbia (GC), according to the latest annual industry performance review by the BC Oil and Gas Commission (BCOGC).  Natural gas flows increased by 11% to 6.2 Bcf/d as of year-end 2021 from 5.6 Bcf/d at the same time in 2019 before public health restrictions interrupted economic activity to slow down the spread of the virus.  Production including condensate as an equivalent is now reaching levels around 9 BCFE/d as shown in the graph below with over 9,687 wells presently on production.
The Montney, in the Fort St. John region along the Alaska Highway, draws 99% of BC drilling. There were 1,230 Montney wells rig released in 2021-22. After dipping to 3.6% as the pandemic hit in 2020, the BC gas production growth rate doubled to 7% in 2021. Processing also grew through the 2020-21 worst of the pandemic. New plants and expansion projects added 1.3 Bcf/d which has significantly reduced bottlenecks providing Montney producers additional avenues to sell their production resulting in higher prices. As a natural resource, the Montney can be compared to an iceberg, with only a fraction of the true size visible above water while the great majority lurks out of sight beneath the surface. As of year-end 2021, recognized Montney reserves totaled 81.5 Tcf. But the officially accepted volume was only 4% of an estimated total – 1,965 Tcf – projected by geological resource surveys conducted by the British Columbia Oil and Gas Commission.
---
The Montney Formation is an Early Triassic aged formation in the Western Canadian Sedimentary Basin extending over 130,000 sqkm from north-east British Columbia to north-west Alberta. The Montney Formation forms part of the Western Canada 'Deep Basin' system, a pervasive hydrocarbon system of organic rich shales and siltstones where tight reservoirs exist in close proximity to matured hydrocarbon-expelling source rocks. The sediments were deposited in a shallow marine shelf environment in which sediments flowed into the basin in a south-westerly direction as a series of channel and fan deposits. The Montney Formation is dominated by siltstones with varying degrees of dolomitisation. The thickness of the Montney typically ranges from 100-300m, thinning to zero at its eastern and north-eastern edges while increasing to over 300m on its western side. The depth from surface to the top of the Montney ranges from 700m to 4,500m, increasing from northeast to southwest. The number of transactions in the Montney over the last 12 months have been signifciant as summarised below:
June 2021 – Tourmaline's C$1.1 Billion purchase of BlackSwan
Saguaro sold 50% interest of its production and facilities to Tourmaline in the June Qtr 2021 for C$205 million (9,000 boe/d, 25% condensate/NGL's).
ARC Resources and Seven Generations Energy C$8.1 billion merger
Canadian Natural Resources (CNRL) C$461 million purchase of Painted Pony
ConocoPhillips C$550 million purchase of Kelt asset package
Tourmaline's C$85 million purchase of select acreage from Painted Pony, Polar Star and Chinook for C$85 million
---
Reserves

Calima has drilled, three wells in the Montney.  The first well retrieved 240m of core from the Montney formation.  The second and third wells each had 2500m horizontal legs and were located in the upper and middle Montney formation.  These wells were successfully completed and tested resulting in a 2021 contingent reserve estimate of 160,528 MBOE.  McDainel's and Assoc. have updated the reserve book with 2021 costs and pricing, as well as incorporating "development ready, pending investment" reserves. See table to left.
The first attempt to employ multistage hydraulic fracturing in a Montney horizontal well occurred in July 2005, near Dawson Creek. Initial production commenced at rates four-to-five times greater than previously drilled vertical wells in the same target horizon. This was quickly followed by other successful horizontal wells which, along with subsequent drilling and coincident geologic investigation, eventually defined the regional unconventional resource play trend. The Montney Formation has emerged as one of the most commercially attractive and compelling unconventional prospects in North America. More recently, following exceptional results in liquids-rich areas, a rush to find new liquid-rich sweet-spots has ensued.
---
Tommy Lakes Infrastructure Acquisition Provides Egress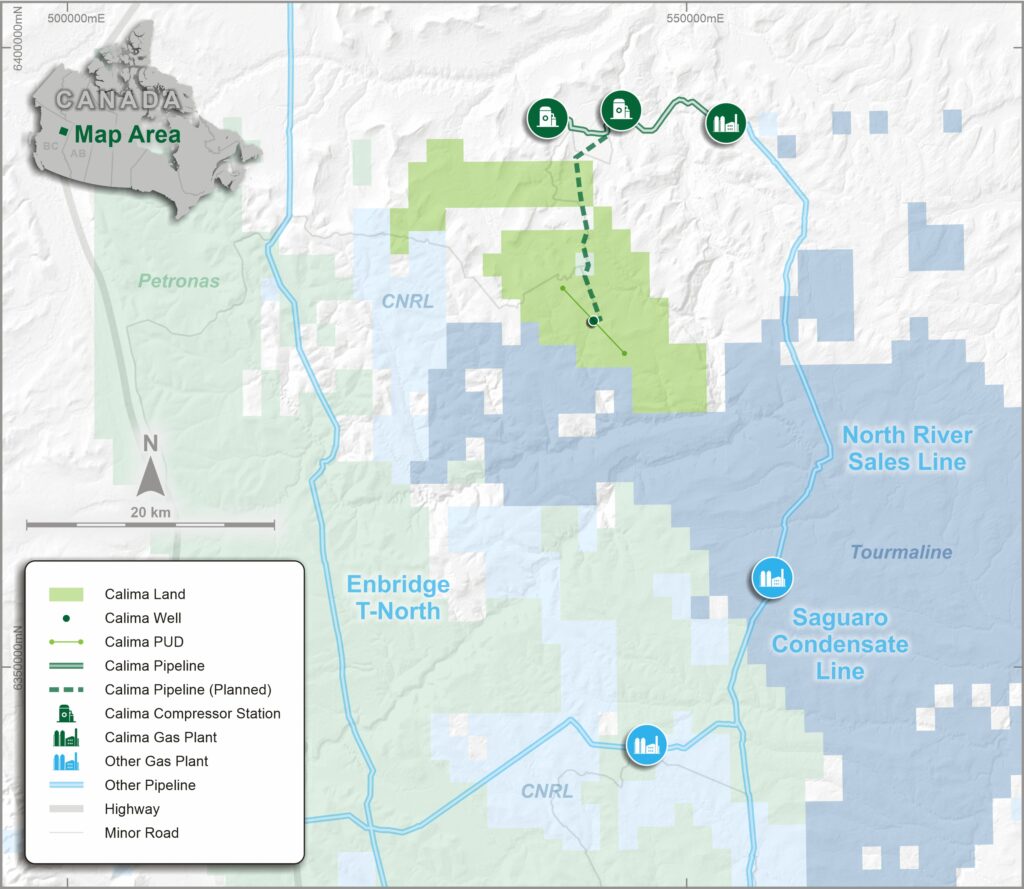 Calima closed on the acquisition of the Tommy Lakes infrastructure in April 2020.
The Tommy Lakes infrastructure includes over 30km of pipe, three compressor stations, an accommodations camp and a tie-in to a 12" sales gas line. The design capacity of the infrastructure is 50mmcf/day of gas and 2,500bbs/d of condensate. The sales line has capacity to accommodate an expansion of the Tommy facilities in the future. The Tommy Lakes infrastructure is currently preserved in a shut-in state and ready for reactivation. These facilities have a replacement value of A$85 million.
Calima has the permits in place to construct the pipeline to tie-in the Montney wells at Pad A-54 to the Tommy Lakes infrastructure. The tie in could be completed in one winter season and the facilities would be restarted within the same timeframe.
---
Commodity Prices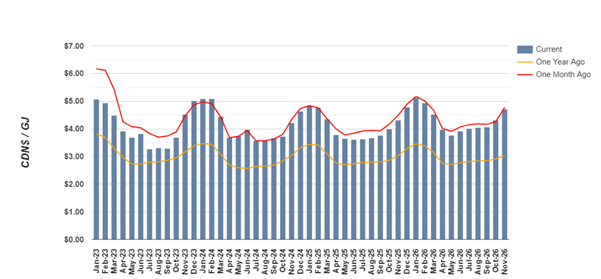 Natural gas futures continue to be buoyant with current AECO pricing above C$5/GJ and long-term pricing above C$4 as detailed in the graph below. This is a significant increase from 2 years ago when pricing for gas was ~ C$2.50/GJ.